November 30
MS Access SIG Back to Meeting at the Veteran's Administrative Medical Center!
Our next meeting is on Wednesday December 18,. David Johnson will present Microsoft Access applications that he has developed that involve VBA and automation. These tie Access to other Office Suite products. Afterward, we will discuss issues from our attendees. New users go first, then experienced users. We will meet at the Veteran's Administration Medical Center on the 4th Floor. in the auditorium (this is right after you get out of the elevator.)
The SIG normally meets quarterly at 7pm-9pm on the third Wednesday (except December) of the last month of each quarter.  However, this month we're meeting on December 18,. After the December 18, meeting, our next scheduled meetings are Wednesday March 19, and Wednesday June 18,. Unless we have a guest speaker, our meetings consist of sharing information among attendees. Beginning users go first, then experienced users.
The following is a map of the area around the Veteran's Administration Medical Center location: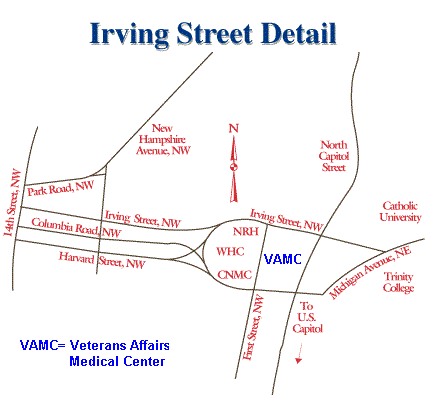 The following are directions to the Veteran's Administration Medical Center:
From the East: Route 50 West to New York Avenue, exit onto South Dakota Avenue. At 7th traffic light, turn left onto Monroe Street. Follow Monroe until it dead ends. Go left on Michigan Avenue. Follow right lanes onto Irving Street. Get in left lane and make first left. VAMC is located to the left.
From Baltimore & Northern Areas: I-95 Southbound. Veer right onto I-495 toward Silver Spring. Leave I-495 almost immediately at New Hampshire Avenue, exit Route 650 South. Go south for approximately 4 miles on New Hampshire Avenue, then go south on North Capitol Street for approximately 2 miles. Exit right onto Irving Street Following signs to VAMC. Get in left lane immediately and make first left. VAMC is located to the left.
From the West: South on 270, then go east on I-495 (go left at fork marked "Washington"), to the Connecticut Avenue exit, southbound Route 185. Proceed south on Connecticut Avenue for about 3 miles. Turn left onto Military Road for approximately 3.5 miles. Turn right at light onto North Capitol street. Go approximately 1.5 miles then exit right onto Irving Street following signs to VAMC. Get into left lane immediately then make first left. VAMC is located to the left.
From Virginia & Southern Areas: Take I-95, Virginia Route 1, or Virginia Route 50, to the 14th Street bridge. Continue north on 14th Street until you reach Harvard Street where you will turn right. Harvard ends at light (approximately 2.5 miles). At light, turn left onto Irving Street. Stay in middle lane. At 3rd light turn right. VAMC is located on the left.
Parking: Park in any visitors space. There are plenty; We suggest using the ones on the right as you come in, opposite the emergency room entrance, as that is the only entrance open after 8. You can also park in the large lot past the main entrance.
Building Entry: Enter via the Emergency Room entrance. You may need to show an armed guard a photo ID, e.g. driver's license. Continue in the direction you entered until you come to a large "room"; then look to your right and back the way you came; there are three elevators there.
Fourth floor: When you get to the fourth floor and get off the elevator, the auditorium, where we meet, should be right in front of you..